Cauliflower Pickles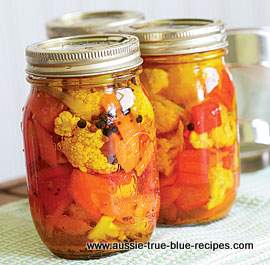 Ingredients:
This Cauliflower Pickles recipe is very easy - and is fantastic to keep in your fridge as an accompaniment for cold sliced meat.
The word "pickles" usually describes coarsely chopped fruits and vegetables which are preserved in either brine or vinegar.
Home-made pickles add flavour and variety to all sorts of foods, and with chutneys, belong to the tradition of the English kitchen; the art of making them should not be allowed to die out.
1 medium head cauliflower (broken into small florets
1 cup tiny white onions, peeled
1/3 cup salt
5 cups white vinegar
3/4 cup sugar
1 teaspoon turmeric
1 tablespoon mustard seeds
1/2 tablespoon celery seeds
1 red chilli
Several trays of ice cubes (or just get a bag of ice from the service station or the pub)
Method:
Mix vegetables with salt and ice cubes, and cover with more ice cubes.
Let this stand for 3 hours, then drain the fluid away.
Mix the remaining ingredients in a large saucepan and bring to the boil, stirring to dissolve sugar.
Add cauliflower and onions.
Cook for 10 minutes or until tender but not soft.
Pack into hot sterilized jars.
Reheat liquid to boiling. Pour over vegetables and seal.
Makes 5-6 cups.