Carrot Cake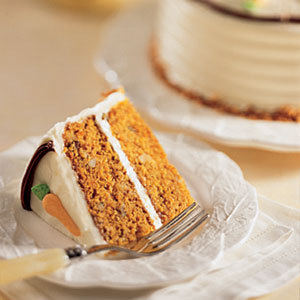 Ingredients:
This is the first Carrot Cake recipe I ever tasted. I've tasted many more since then, but I keep coming back to this one for the freshness, deliciousness, moistness.
This cake will keep well, stored in the refrigerator, for days - up to a week.
2 cups Plain Flour (All Purpose flour)
2 teaspoons baking powder
1 teaspoon baking soda
1/2 teaspoon salt
2 teaspoons cinnamon
1 cup vegetable oil
1 1/2 cup sugar
4 eggs
3 cups grated carrots
1 cup walnut, coarsely chopped
For Cream Cheese Icing:
8 oz cream cheese
3 tablespoons oil
3 1/2 cups sifted icing sugar
pinch of salt
1 teaspoon vanilla

Method:
Preheat oven to 180°C. Oil and line two 9" round cake pans.
Sift together flour, baking powder, soda, salt, and cinnamon.
Take 2/3 of the sugar, add gradually to the oil, beating well after each addition.
Beat eggs until light, add remaining sugar.
Slowly add egg mixture to oil mixture, continue beating until the mixture is smooth and fluffy.
Gradually stir in the sifted dry ingredients until well combined. Add carrots and nuts. Mix well.
Pour into prepared pans and bake 60-65 minutes, until cakes are golden brown and the tops spring back when lightly touched.
Allow cakes to cool for 20 minutes and turn out to cool.
Once cool, spread icing between layers, then ice top and sides. Sprinkle a little orange zesty around top edge.
For Cream Cheese Icing:
Cream the cheese. Blend in oil and vanilla. Gradually add icing sugar and salt until smooth and spreadable. Spread on cooled cake.
Back to Cakes from Carrot Cake