Braised Rump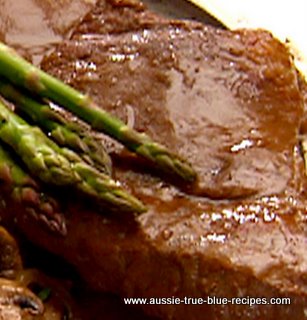 Ingredients:
2kg rump steak
1/4 teaspoon white pepper
2 tablespoons olive oil
1 tablespoon honey
2 tablespoons soy sauce
2 teaspoons celery salt
2 cloves garlic, crushed
1 cup water
1 tablespoon vinegar
1 teaspoon ginger, ground

Method:
Rub serving pieces of meat with celery salt and pepper.
Saute garlic in oil and remove when cooked.
Brown meat in oil and combine honey, water, vinegar, soy sauce and ginger.
Pour over meat.
Cover and simmer fro 2 hours.
Transfer meat to serving dish and pour gravy over.
Serve immediately - fantastic with fresh asparagus and mashed potato.
Back to Beef from Braised Rump