Braised Prawns With Vegetables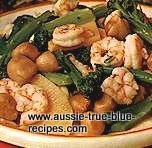 Ingredients:
500g green king prawns
250g can bamboo shoots
250g broccoli
470g can straw mushrooms or champignons
1 tablespoon oil
1/2 cup chicken stock
1 teaspoon cornflour
1 teaspoon oyster sauce
salt, pepper
pinch sugar
1/2 teaspoon grated green ginger

Method:
Shell prawns, cut vegetables and drain juice from cans.
Heat oil in pan or wok. Add prawns and saute quickly until tender and light pink in colour (about 3 mins).
Add to pan the bamboo shoots, broccoli, mushrooms - and toss well.
Blend cornflour with the chicken stock, oyster sauce, salt, pepper, sugar, ginger and add to the pan.
Stir continuously and cook for 1 minute.
Serve with rice.
Back to Seafood from Braised Prawns With Vegetables