Boiled Pineapple Fruitcake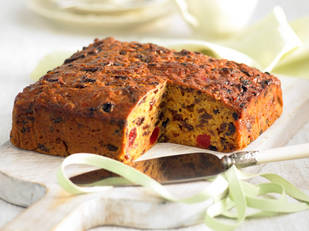 Ingredients:
This boiled pineapple fruitcake is an golden oldie - never fails, always tastes magnificent - a sure way to impress.
470g can crushed pineapple
125g butter
1 Teaspoon mixed spice
2 eggs
1 cup self-raising flour
500g mixed fruit
1 cup sugar
1 Teaspoon bicarbonate soda
1 cup plain flour
Method:
Line a deep 20cm round cake tin with two thicknesses of greaseproof paper, bringing paper 5cm above edges of tin.
combine undrained pineapple, chopped fruit, butter, sugar, spice and soda in pan.
Stir over heat until sugar is dissolved.
Bring to boil.
Boil uncovered for 3 minutes.
Allow to become cold.
When cold, add eggs and sifted flours, and mix well.
Spread into prepared tin.
Bake in moderately slow over 1 1/2 to 2 hours.
Cover, leave in tin until completely cold.
Remove from tin, leave lining paper intact.
Refrigerate in airtight container for up to a week.
Back to Cakes from Boiled Pineapple Fruitcake