Blueberry and Sour Cream Muffins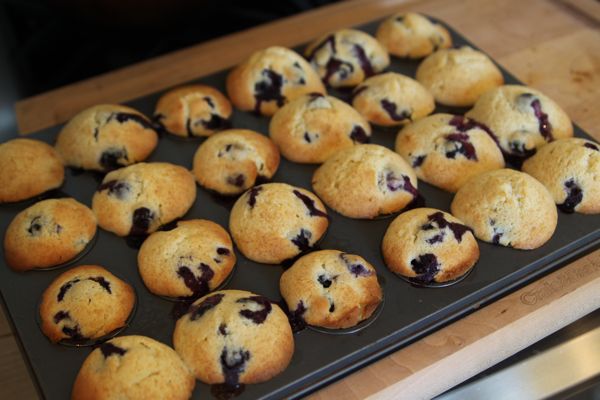 Ingredients:
2 cups blueberries (fresh or frozen)
2 cups sour cream
1 teaspoon bicarbonate soda
1 teaspoon salt
4 cups plain flour
1 teaspoon vanilla essence
1 cup vegetable oil
2 cups white sugar
4 eggs

Method:
Preheat oven to 200°C.
This recipe will make 24 muffins, so either grease 24 muffin cups or place 24 paper muffin lines in the trays.
In large bowl, beat eggs until frothy and add sugar gradually while continuing to beat.
Continue to beat this mixture while slowly adding oil. Stir in vanilla.
In a separate bowl, stir together flour, salt and bicarbonate soda.
Stir the dry ingredients into the egg mixture alternately with the sour cream. Gently fold blueberries through the mixture.
Scoop batter into the prepared muffin cups
Bake in the preheated oven for 20 minutes, and enjoy.
Back to Muffins from Blueberry And Sour Cream Muffins