Blueberry Muffins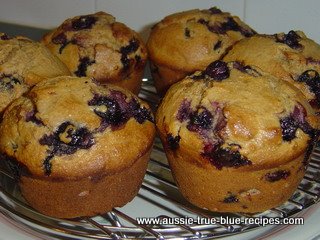 Ingredients:
All over Australia, people are becoming more and more fond of enjoying a muffin for breakfast, or with their coffee at morning or afternoon tea time. Who doesn't enjoy the beautiful soft freshness of Muffins?
1/4 cup margerine
2 eggs
1/2 teaspoon salt
1 cup caster sugar
2 cups self-raising flour
2 teaspoons baking powder
1 teaspoon vanilla
1/2 cup milk
250g blueberries (frozen or fresh)

Method:
Preheat the oven to 180°C. Put muffin cases in muffin tray.
Into a large bowl, cream the margerine and sugar until creamy and fluffy.
Add the eggs, vanilla and milk. Mix by hand (as opposed to electric beater).
Add flour, salt, baking powder and blueberries.
Spoon equally into muffin cases.
Bake for approximately 25 minutes.
Bake to Cakes from Blueberry Muffins