Black Bread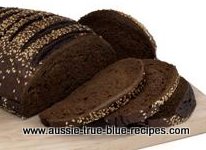 Ingredients:
This Black Bread recipe is traditionally a Russian bread - if you've never tried it before, it's worth baking it - it tastes absolutely delicious and full of flavour - great with a morning cuppa.
300ml water
1/2 teaspoon sugar
15g or 1 1/2 teaspoons dried yeast
2 tablespoons molasses or black treacle
25g margarine
2 tablespoons vinegar
175g wholewheat flour
75g bran breakfast cereal
1 1/2 teaspoons caraway seeds, crushed
1/4 teaspoon fennel seeds, crushed
1 teaspoon salt
225g rye flour
Glaze:
1/2 teaspoon cornflour
3 tablespoons cold water

Method:
Heat 4-5 tablespoons of the water until lukewarm, then blend in the sugar and yeast.
Leave aside for 10 minutes until frothy. Gently heat the molasses and margarine in a saucepan with the remaining water until dissolved. Then, stir in the vinegar and leave aside until lukewarm.
Place the wholewheat flour, bran cereal, caraway and fennel seeds in a bowl with the salt - and mix in the yeast liquid and molasses liquid - and blend together to give a soft mixture.
Beat well.
Work in the rye flour to give a fairly soft dough and then turn it out onto a lightly floured surface.
Cover the dough with the bowl and leave to rest for 15 minutes before kneading well for 10-15 minutes using as little extra flour as possible.
Place the dough in oiled polythene bag and leave aside in a warm place until it has doubled in size.
Punch down the dough, knead until smootha nd then shape into a round about 6 inches in diameter.
Place the round on a greased baking tray and put to rise in a warm place until doubled in size - about an hour.
Bake in the centre of a moderate oven (180°C) for 45-50 minutes.
Meanwhile combine the cornflour and the cold water and cook over a medium heat, stirring constantly until the mixture thickens.
Boil for 1 minute, stirring constantly.
As soon as the bread is baked, brush the cornflour mixture over the top oft he loaf.
Return the bread to the oven and bake for a further 2-3 minutes or until the glaze is set.
Remove the bread from the tin and cool on a wire rack.
Back to Bread from Black Bread