Beef Stroganoff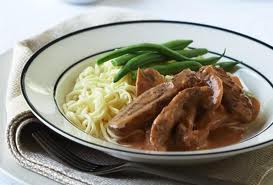 Ingredients:
1 1/2 - 2 lbs fillet steak
1 Tablespoon plain flour
2 ozs butter
1 Tablespoon tomato paste
1/4 pint sour cream
Salt, pepper
2 medium onions, chopped
6-8 oz button mushrooms, finely sliced
1 Tablespoon white wine (or to taste)

Method:
Cut steak into strips. Season well with salt and pepper and toss in flour. Heat half the butter in a pan and fry onions slowly until coloured.
Add mushrooms, fry a few minutes longer, adding more butter if necessary.
Remove onions and mushrooms, add remaining butter to pan, and when hot put in steak strips and fry briskly 3 to 4 minutes.
Return onions and mushrooms to the pan with the steak, and over heat add tomato paste, sour cream and wine, cooking until well heated.
Serve at once with either hot rice or noodles.
Beef Stroganoff - Video Demonstration
Back to Beef Recipes from Beef Stroganoff