Beef In Beer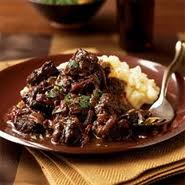 Ingredients:
750g steak, diced
1 large onion
30g butter
salt, pepper
1 Tablespoon soya sauce
1 cup of beer
pinch of herbs
flour
1 clove garlic
1 Tablespoon oil
1 beef cube
2 Tablespoons worcestershire sauce
Have a look how I built my website....
Method:
Coat meat in flour.
Fry in oil and butter until brown on both sides.
Place in casserole dish.
Fry onion and garlic then add stock cube, soya and worcestershire sauce.
Season to taste.
Mix well, adding herbs and beer.
Pour over meat and bake in a slow oven (about 150 degrees celcius) for approximately 1 1/2 hours.


Back to Beef from Beef In Beer