Basic Bread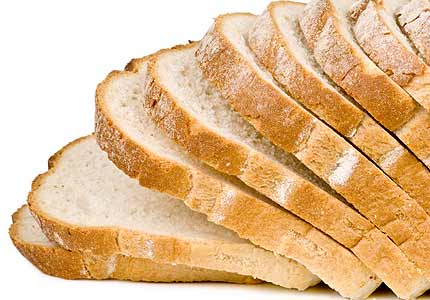 Ingredients:
3 lbs flour
3 - 7 teaspoons salt
1 1/2 pints tepid water,
1 oz yeast
1 -2 teaspoons sugar

Method:
Sieve flour and salt into a warm basin, then put into a warm place.
Cream yeast and sugar in another basin, add part of the liquid. Put this into a well which you have made in the centre of the flour, giving a light dusting of flour over the top.
Cover with a clean teatowel, and leave in a warm place for a good 15 inutes or until the top is covered with bubbles.
Add the rest of the liquid (you may need a little more than the given quantity) to make a soft dough.
Knead well until the dough is smooth and leaves the bowl clean.
Put to rise in a warm place for about 1 1/2 hours, then knead it again.
Form into loaves, and put into warmed and lightly greased bread tins, half filling them.
To give very crisp crust, brush over a littel melted butter or use milk or egg and water.
Allow to prove (rise) for the final time - about 20 minutes.
Bake in the centre of a hot oven for the first 10 minutes.
Reduce heat to moderate for a further 30-45 minutes, depending on the size of the loaves.
To test, knock on the bottom of loaves and they should sound hollow. Cool the loaves away from any draught.
Note - an ounce or so of butter or substitute rubbed into the flour helps to keep the bread moist.
Back to Bread from Basic Bread