Banana Yoghurt Muffins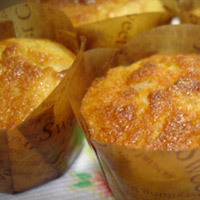 Ingredients:
1/2 cup caster sugar
1 3/4 cup self-raising flour
2/3 cup vegetable oil
1 egg, beaten
1 cup natural yoghurt
2 large over-ripe bananas

Method:
Preheat oven to 180°C. Place muffin cases in the muffin tray.
Mash the over-ripe bananas with the back of a fork into a large bowl.
Add yoghurt, egg, oil to the banana and stir to combine.
Sift the flour and sugar into the banana mixture and stir to just combine.
Add a little extra flour if the mixture appears too runny.
Spoon mixture into the muffin cases.
Bake muffins for 20-25 minutes, or until a skewer or toothpick comes out clean when inserted.
Stand muffins in the pan for 5 minutes before turning onto a wire rack to cool.
Fantastic served warm as dessert, with a big scoop of vanilla ice-cream.
Back to Muffins from Banana Yoghurt Muffins