Banana Loaf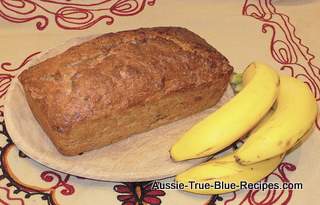 Ingredients:
This simple banana loaf recipe is ideal for using up those bananas that have just turned a little bit soft, or are overripe.
2 Tablespoons butter
3 mashed bananas
3 Teaspoons baking powder
3/4 cup raw sugar
2 Tablespoons milk
1 1/2 cups wholemeal flour
1 egg

Method:
Cream butter and sugar, add egg, then bananas.
Fold in flour and baking powder, lastly stir in milk.
Bake in greased loaf tin for 45 minutes at 200°C.
Ice with butter icing and chopped walnuts or serve sliced with butter.