Almond Carrot Cake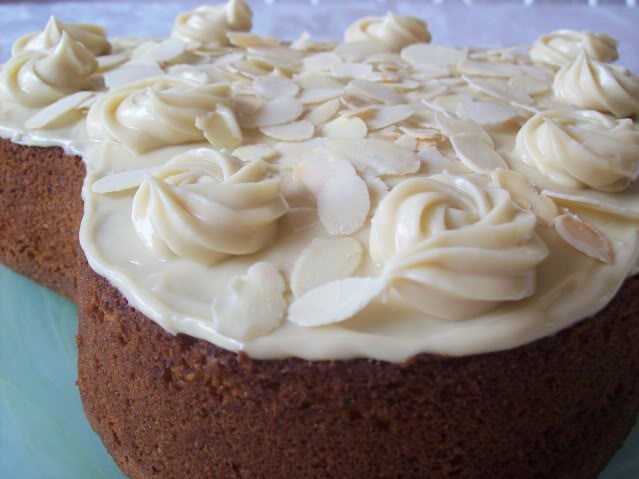 Ingredients:
Nothing beats this delicious version of the Almond Carrot Cake - perfect for school lunches, morning or afternoon tea, or even a late night supper. A beautifully moist cake, made even more delightful by the smooth Cream Cheese Frosting.
This recipe will become one of your favourites - and a recipe that all of your friends will be begging you for.
5 eggs, separated
1 teaspoon finely grated lemon rind
1 1/4 cups raw caster sugar
2 cups coarsley grated carrot
2 cups almond meal
1/2 cup self-raising flour
2 tablespoons toasted slivered almonds
For Cream Cheese frosting:
100g packaged cream cheese, softened
80g butter, softened
1/2 cup pure icing sugar
1 teaspoon lemon juice

Method:
Preheat oven to 180°C. Grease deep 19cm square cake pan; line base with baking paper.
Beat egg yolks, lemon rind and raw caster sugar in a small bowl with an electric mixer for about 5 minutes or until mixture is thick and creamy.
Transfer to a large bowl. Stir in grated carrot, almond meal and sifted flour.
Beat egg whites in a small, clean bowl with an electric mixer until soft peaks form. Fold into carrot mixture in two batches.
Pour mixture into prepared pan.
Bake for about 1 hour and 15 minutes or until cooked when tested. Stand cake for 5 minutes then turn right way up onto wire rack to cool.
For Cream Cheese Frosting:
Meanwhile, beat cream cheese and softened butter in a small bowl with an electric mixer, until mixture is light and fluffy, gradually beat in sifted pure icing sugar and lemon juice until just combined.
Spread top of cooked cake with Cream Cheese Frosting; sprinkle with toasted slivered almonds.
Although this cake will probably not last long because your family will simply keep going back for more, I recommend that you store it in an airtight container.
Back to Cakes from Almond Carrot Cake